EARTH 2194: Environmental Sustainability in Costa Rica
Dr. Costa's program at Ohio State University


---
We worked with Dr. Costa to show his natural science students the ecology of Costa Rica—a country known worldwide for its conservation efforts.
By pairing his lectures about ecotourism, biodiversity and sustainability with our connections in Costa Rica, we were able to build a Course Itinerary that provided meaningful teaching moments. Download his full itinerary to discover the national parks, reserves and protected areas that enhanced his lectures at Ohio State University.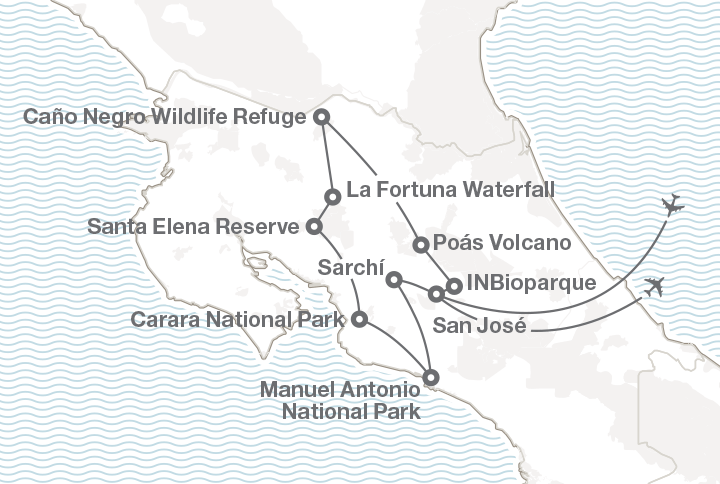 AT OHIO STATE UNIVERSITY
– Lecture on the tectonic evolution of the Central America convergent margin
– Lecture on geomorphology and physiographic provinces

IN COSTA RICA
– Day 2: Guided visit to INBioparque (Costa Rica Institute of Biodiversity)
– Day 4: Visit to La Fortuna geothermal basin and Arenal Volcano National Park
– Day 7: Investigate coastal ecosystems at Manuel Antonio National Park
BACK ON CAMPUS
– Lecture on conservation units and protected areas
– Lecture on hydrogeology and groundwater resources
View Full Itinerary​
Upon completion of the course, students are expected to:
– Identify the major tropical ecosystems of Costa Rica
– Learn ways in which resources are used to produce consumable goods and provide ecosystem services
– Understand the connections between economic, environmental and social aspects of sustainability
– Learn to apply sustainability concepts locally and globally by engaging in real world experiences highlighting the conflicts between development and conservation
– Understand the connections between their academic field and issues of global sustainability
– Develop an integrated vision for sustainability that embraces their personal lives, profession, local communities, and the world at large
Ozeas Costa of Ohio State University built this program to address the issues of sustainability in areas with a high level of biodiversity. The information included in this Course Itinerary is an excerpt from his comprehensive syllabus.
VIEW ITINERARY
Need more inspiration?
See What Other Professors Have Built
Dr. Davey's program at Southern Illinois University

Dr. Schneider's program at Framingham State University

Dr. Hokien's program at Marywood University