Enhanced health standards
As we travel in the age of COVID-19, health and wellness has a critical influence in how we design and operate programs. Your safety and well-being has never been more important than it is today.

These updated hygiene measures and industry-leading standards are part of EF's Safety Assurance commitment, which also includes EF's worldwide network, global and domestic safety teams, and EF's Safety and Protection offerings. Together, our commitment is designed to ensure that you can enroll and travel on our programs with confidence.
Enhanced measures for confident travel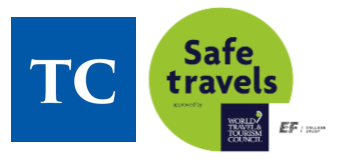 We're proud to have earned the World Travel & Tourism Council's Safe Travels stamp—the world's first-ever global safety and hygiene stamp for Travel & Tourism, designed specifically to address COVID-19 and similar outbreaks. Additionally, we received a TOURCARE stamp from the United States Tour Operators Association, an international travel and tourism association and fellow recipient of the Safe Travels stamp. This TOURCARE stamp further recognizes the proactive measures we're taking to protect the well-being of our travelers.
---
Preparing for your program
All travelers will receive information about local COVID-19 guidelines and regulations expected to be in place during their program. Travelers should closely monitor their health in the time leading up to their program.




All travelers are required to take a rapid at-home COVID-19 antigen test within 24 hours of their flight's departure and bring proof of their negative result with them on their program. Any costs associated with testing are the responsibility of the traveler; however, many states and local communities offer free testing resources. Travelers will need to be prepared to show proof of their negative test as required throughout their program. Some countries may have specific tests and testing timelines that are more stringent. If your destination has different requirements, EF will notify you closer to your scheduled departure.
Given the consistently evolving vaccination requirements in countries, with suppliers, and/or with airlines, as well as the local immersion and industry engagement nature of our higher education programming, all travelers are required to be vaccinated and up-to-date on vaccinations related to COVID-19 in order to travel. Our offices around the world are continuing to monitor this environment, and will notify groups on any changes.
Program experience while abroad
We do everything we can to maintain the integrity of our program experiences, and our travelers' safety comes first. If we need to adjust an itinerary to, say, avoid a crowded location at a peak time or follow local health and safety guidance, we're able to do so quickly and easily. Our on-the-ground presence in the areas where we travel means we're continuously working with our local partners, such as special sites and restaurants, to provide as safe an experience as possible.




We have strong, long-established relationships with some of the largest airline, hotel, and transportation companies, global governmental agencies, and health organizations. These partnerships, along with our leadership roles in major industry organizations, mean that we are actively shaping new worldwide health and safety standards.
Just before your program and while abroad, our EF COVID Care Promise is provided to all groups. If a traveler is diagnosed with COVID-19 just before or while on an EF program, or if a traveler or group is not diagnosed with, yet is required to quarantine on account of COVID-19 while on an EF program, EF will provide or arrange for assistance, consistent with local requirements, at no additional expense to the travelers.
See full details here
.
If a traveler is diagnosed with COVID-19 while on their program, the traveler diagnosed with COVID-19 will be required to isolate based on the guidance of the destination they are in. The remainder of the program group will be required to quarantine on their program and adhere to testing guidelines for COVID-19, in accordance with local guidelines. As a reminder, EF's exclusive COVID Care Promise is provided to all groups to offer support in this instance.
Masks & hand sanitizer on program
Masks must be worn if required by local regulations.. We do ask that travelers bring their own face masks on their program, as well as their own personal hand sanitizers. However, Program Directors will have a supply of disposable face masks and hand sanitizer available should someone in the group need them. In addition, hand sanitizer will be available in hotels and restaurants, and on your group's private motorcoach.
We partner with hotels that practice enhanced safety measures such as frequent cleaning of common areas and thoroughly disinfecting rooms between guests.
Your private coach will be thoroughly cleaned daily, and high-touch areas will be wiped down throughout the day. Bus drivers will be trained by vetted suppliers in best practices to provide the safest possible environment.
Tour Director & local staff
All our local staff, including your expert Program Director, will be ready to explain guidelines in the destinations you are traveling to. Your Program Director and our Safety and Incident Response Team are trained on how to support travelers should you or your students feel ill during your trip.
Currently, the CDC recommends testing before entry back into the United States, although this is no longer required. Additionally, Non-U.S. citizens are required to provide proof of vaccination before entry. After arrival, the CDC recommends getting a viral test within 3-5 days and monitoring yourself for symptoms. For more information about the recommendations or requirements of returning home, please see
here
.
Looking ahead
As we enhance and innovate on our own health and safety protocols, we'll continue to monitor guidance from the U.S. Centers for Disease Control and local and federal authorities worldwide. We will incorporate new procedures where appropriate as part of the comprehensive safety measures that are standard on every EF program.
Ask an expert
As part of our comprehensive commitment to your safety, EF has a dedicated Safety and Incident Response Team that help drives our ongoing and holistic safety approach. Here are some commonly asked questions, answered by members of our team.
Country reopening insights
As your partner in international education, we are committed to providing ongoing updates of situations around the world. Explore the EU's interactive re-opening tool below for more information about countries' protocols, safety measures, and re-opening status. For countries outside of the EU, we recommend visiting that countries' state department website for specific information.

Explore the EU's tool