Meet your EF Study Abroad team
Meet your Program Consultant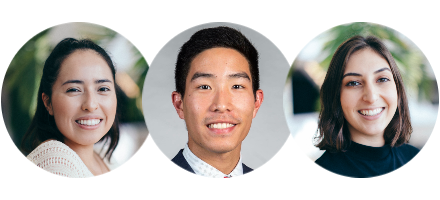 Your dedicated Program Consultant, like Jasmin, Alfred, and Shana above, will be your go-to team member and main point of contact for all things EF Study Abroad. They partner with institutions in your area and will work with you to find a study abroad program that connects with your curriculum.
The people behind your program
Program Experience Designers

---

These experts focus on assessing faculty goals and aligning them to enriching experiences, while also coordinating logistics, like hotels and transportation, to ensure the highest quality.

Program Success Specialists

---

Dedicated to all things recruiting, program promotion, and departure, this team is focused on getting programs off the ground and preparing students for departure.

Traveler Support Specialists

---

Our in-house specialists work directly with travelers to address their needs and questions, covering everything from payment plans to passports to packing.

Academic Affairs Team

---

This team ensures each program includes a thoughtful itinerary with learning opportunities and moments of reflection to help students gain global competencies.
Your expert Field Director
From the moment you clear customs, your Field Director will be at your side taking care of all the logistics of travel. As a confident and comfortable voice in what are often unfamiliar places, he or she provides peace of mind for both travelers and their families back at home. They partner with faculty leaders to identify and facilitate learning moments while abroad, and it's their job to make sure the entire group is safe, secure, and fully taken care of.
In addition to our global team of educators, researchers, and logistical experts, you can travel with peace of mind knowing that there are over 52,000 EF employees at over 600 schools and offices across 115+ countries, which means there's an EF staffer just about anywhere you travel, ready to jump in and help with anything you need. Read more about how our team covers institutions, educators, and students from unforeseen circumstances that may arise before or during your program.